Cara Scotland and the North Conference 2023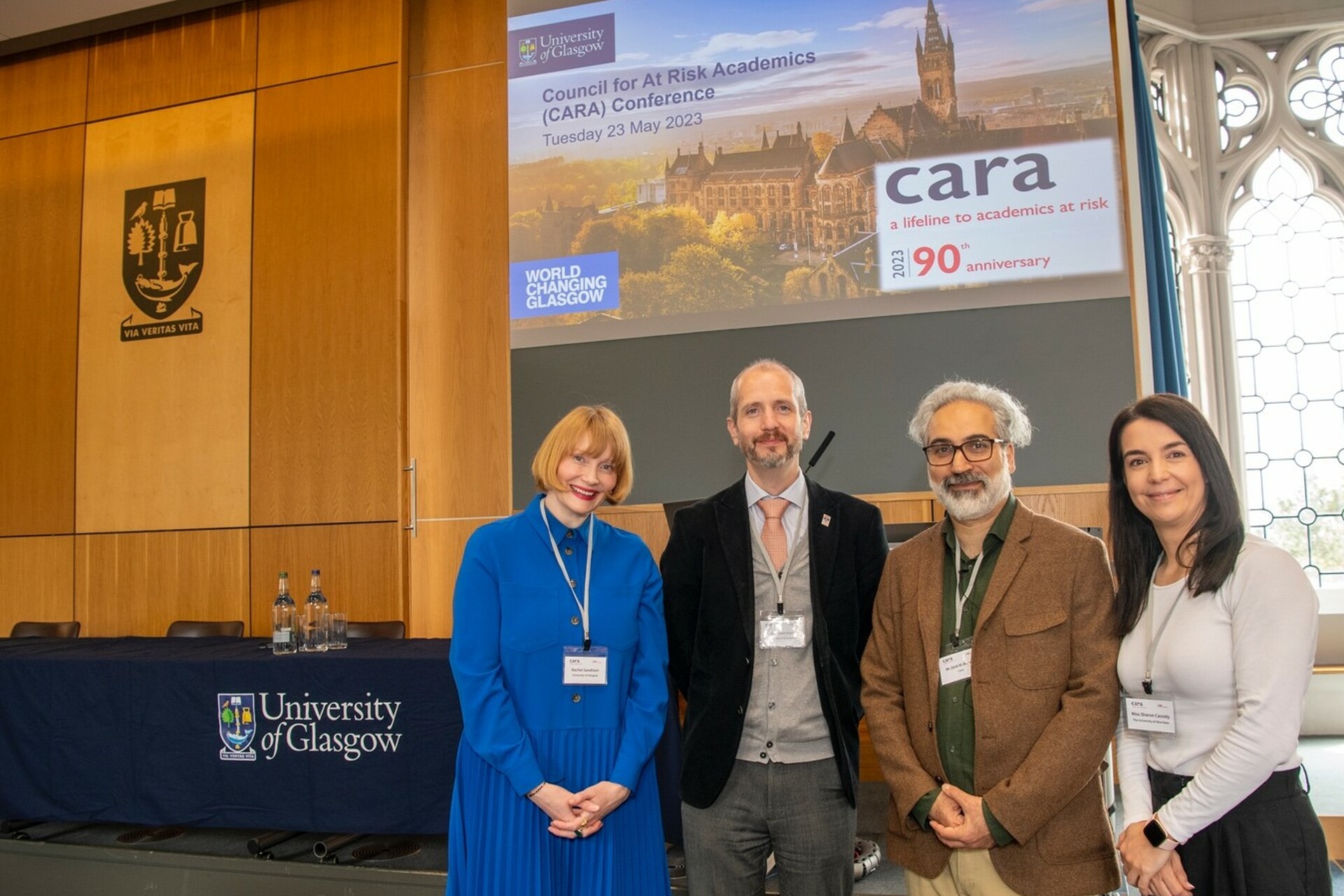 Pictured from left to right: Rachel Sandison (Glasgow), Christian Harding (St Andrews), Zeid Al-Bayaty (Cara), Sharon Cassidy (Aberdeen)
On Tuesday 23 May 2023 the University of Glasgow hosted the first in-person 'Cara Scotland and the North Conference' since 2019. The date of the conference held special significance, being 90 years and a day since the founding of what is now known as the Council for At-Risk Academics.
We were delighted to be joined by Cara Fellows and British Academy 'Researchers at Risk' Fellows from Ukraine, as well as by their supervisors, University leaders, supporters, and other friends of Cara - including colleagues from the Universities of Sanctuary, Universities Scotland, and the Royal Society of Edinburgh.
In 1933 the then Principals of the Universities of Glasgow, Aberdeen and St Andrews were among the 41 signatories of the Founding Statement of what is now Cara, so it was wonderful to be hosted by Glasgow and to hear 'Welcome remarks' from the present Principal of St Andrews and Senior Vice-Principal of Aberdeen.
Topics on the day included Cara's response to the crises in Afghanistan and Ukraine and the work of Cara's Syria Programme, as well as practical sessions on navigating the UK academic job market and good practice in hosting a Cara Fellow.
The final words of the conference were from 'Researchers at Risk' fellow, Alla Kurzenkova. You can watch Alla's moving story here: Alla Kurzenkova's story
We were very grateful for the kind hospitality of the University of Glasgow in hosting the conference and providing the wonderful venue and catering, and most importantly a space for these important conversations; and we thank all those who generously gave their time to take part. We very much look forward to future 'Scotland and the North' conferences!